Kijk in de Agenda voor meer...
30 apr 2017
Greetje Kauffeld en Lex Jasper UITVERKOCHT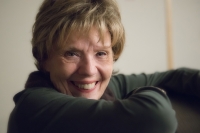 Greetje Kauffeld


Lex Jasper. foto door Willem Schwertmann
jawel, deze twee kanjers komen naar het Waarhuis. mis het niet!!!

Kauffelds professionale loopbaan begint als ze in 1957 de vaste zangeres wordt van het legendarische radio-orkest The Skymasters. Enige jaren later vertegenwoordigt ze Nederland bij het Eurovisie Songfestival met het lied Wat Een Dag, waarna haar carrière een internationale wending neemt. Ze werkt met o.a. Toots Thielemans, Kurt Edelhagen Paul Kuhn Ray Brown en Herb Ellis televisieshows van Joey Bishop. twintig keer op het North Sea Jazz Festival en Jerry van Rooijen en het Metropole Orkest.

baritonsaxofonist Jan Menu en gitarist Maarten van der Grinten. Met hen, aangevuld met contrabassist Jan Voogd, viert Greetje Kauffeld dat ze al zestig jaar op het podium staat.

North Sea Jazz Festival de Bird Award. Eind 2014 wordt haar de Edison Oeuvre Award toegekend.

De Telegraaf schrijft in de zomer van 2015 naar aanleiding van een optreden in het Amsterdamse Concertgebouw: 'Greetje Kauffeld liet horen wat subtiliteit is. Door dicht bij zichzelf en bij de tekst van een liedje te blijven, weet ze haar publiek heel dicht te benaderen, te vertederen of te ontroeren.'

Lex Jasper

Groningen 24-03-49
Pianist/arranger/conductor/composer
TV-radio productions in Holland, Germany, Belgium, UK, Estonia, Italy, USA, Ireland, Szechia.
Concerts in Japan, USA, Indonesia, Thailand, Canada, UK, Ireland, Italy, Austria, Estonia, Germany, Belgium, France, Spain, South Africa, Hong Kong, Brunei, Sarawak.
Piano soloist and side man with: Joe Pass, Ernestine anderson, Clark Terry, Kenny Burrell, Phil Woods, Bobby Shew, James Moody, Al Grey, Ed Thigpen, John Clayton, Bob Brookmeyer, Rita Reys, Greetje Kauffeld, Ann Burton, Laura Fygi, Herbie Mann, Jean Toots Thielemans, Stephane Grappeli, Mark Murphy, Salena Jones, Marjorie Barnes, Pepper Adams, Etta Cameron, Dee Daniëls, Deborah Brown, Georgie Fame, Tony Coe, Martin Drew, Herb Geller, Rolf Ericson, Cleo Laine, Shirley Bassey, Lee Konitz, Ferdinand Povel, Ack van Rooijen, Tony Lakatos, Elaine Delmar, Madeline Bell, Danny Kaye.
Conductor/Arranger with Metropole orchester (NL), NDR Big Band (Hamburg), Radio Philharmonie Hannover, HR Big Band Frankfurt, BBC Big Band, Estonia dream Big Band.
Discography:
Out of my Heart 1975, How my heart sings 1978, A dutch treat 1980, Here I go again 1981,Memories of you 1982, Lexpression 1986,Ruud Brink to say goodbye 1987, Lex Jasper Solo 1988, Bobby Shew 1988, Ernestine Anderson 1989, Take five 1989, Rolf Ericson 1989, Ack van Rooyen Colores 1991, Lexcursions 1994, Clark Terry 1995, Hayati Kafé 1995,Marjorie Barnes 1996, Joe Pass in Hamburg 1997, Lee Konitz 1997, Henri Mancini songbook 1998, Bob Brookmeyer 1998,Rita Reys 1998, Lew Tabackin Pyramid 1999, Jazz at the Pinehill 1999, The great standards 1999, Happy Days 2016 Lex Jasper trio.

zondag 30 april 14:00
zo ongelooflijk leuk dat deze twee jazz iconen naar het Waarhuis komen

27 augustus in het Concertgebouw, maar eerst hier in het Waarhuis

entree: € 17,50 koffie/thee/lekkers inclusief

UITVERKOCHT!!!!!!


Reserveren: info@waarhuis.nl