Kijk in de Agenda voor meer...
13 nov 2016
Marjorie Barnes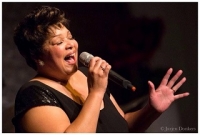 st. Kunst en Cultuur Middag Humsterland organiseert een concert met top-jazz-zangeres MARJORIE.
JAZZ .. JAZZ .. JAZZ .. JAZZ..

THE MARJORIE BARNES BIOGRAPHY:
by Hans R. de Vries



She studied Dance & Drama at New York University and Lesley University. Her first role she got in the Broadway production of Freeman.

The New York Press noticed this newcoming talent and vocal qualities and it landed her roles in a.o. "Hair" (as a member of The Tribe), "I Love My Wife" (as Monica) and various TV plays.

By 1975, member of the very popular group Fifth Dimension (Hit: "Up, Up And Away"),
she toured around the world and shared the stages with greats like Sammy Davis Jr., Frank Sinatra and Billy Eckstein.


zondag 13 november 14:00
ZE wordt begeleid door het inmiddels bij ons in het Waarhuis zeer gewaardeerde en bekende trio:

Arno van Niewenhuize - DRUMS
Koos Wiltenburg - BAS
Thomas Zoetelief - GITAAR

€ 15,00 incl koffie/thee/lekkers



Reserveren: info@waarhuis.nl